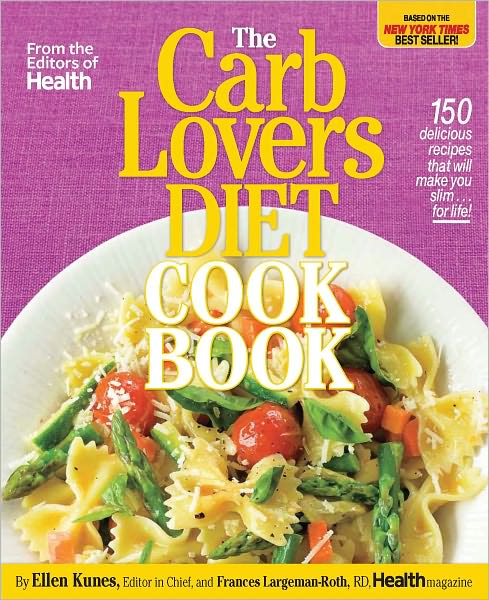 How could I NOT have known that something
so wondrous exists????
Oh my, I have found a cookbook that warms the cockles of my carb whore heart!!
I saw this on Facebook and couldn't believe my eyes. Just look at what Barnes & Noble has to say about this little treasure:
Enjoy the delicious carbs you love - and still lose all the weight you want...and keep it off! The CarbLovers Diet Cookbook features 150 brand new, quick, easy and totally yummy carb-filled recipes that will fill you up and melt off pounds. In addition to more delicious recipes, this cookbook includes over 300 CarbLovers-approved food items to grab-and-go, 10 special menus that help you prepare amazing CarbLovers meals for the holidays or gameday, PLUS exclusive recipes by carb-loving celebrity chefs like Guy Fieri, Cat Cora, Gail Simmons and Wolfgang Puck! No need to count calories or ever feel hungry: all CarbLover recipes are packed with Resistant Starch, the wonder carb that increases fat-burning while keeping you feeling full all day long. Our recipes are dietitian-approved and good for your heart as well as your hips. Enjoy comfort foods like pasta primavera, cheesy stuffed potatoes and the amazing CarbLovers Club Sandwich! The CarbLovers Diet is the only plan you'll ever need to help keep the pounds off - and The CarbLovers Diet Cookbook is the recipe collection that will keep you full and satisfied for life!
It ALMOST sounds too good to be true, but because it's on the internet (the source of all that is reliable, genuine and good), I'm a believer. I'm going to order it. Does this fly in the face of my "clean eating" goal???
Oh how I love my free stuff! And check out the cool metal
box it arrived in!
Another thing I love: my RoadID wrist band. I have a red velcro Wrist ID Sport version that I'm pretty good about wearing (on my long runs especially); I just think it's such a good idea to have some type of ID on you "just in case." When the Wrist ID Slim came out, I thought about ordering one because it looks more comfortable and has some fun colors, but because I already owned one (and I'm cheap frugal), I never did.
So anywhoo, I signed up for the Explore Minnesota Challenge, and as part of my goodie bag for registering, I got a coupon for a free RoadID! You know how much I love my freebies! I went online the day I got that coupon and ordered the Wrist ID slim in pink. And because it was free, I paid the extra $1.00 each for two more bands - purple and green. It's alway nice to have options, ya know?
Back to training - so far, I have kept up with my "run at least a mile every day" AND my 30 minutes of movement per day. Clean eating.... better over the last couple of days but still not 100%. I think I'm going to look at what might constitute an "appropriate" percentage for me to shoot for...
Anyone have thoughts on that?
Bueller?
Anyone??
Happy Sunday, all!